Young Actors Theatre Camp:


Session 1: July 10-14
Session 2: July 31- Aug 4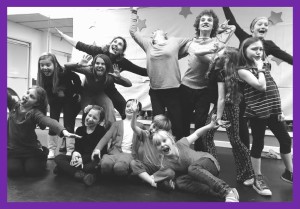 click here to fill out registration form
Session 1:  July 10th-14th

6-8 yrs 9:30-11:45 ~
$120 (pre-register $105 by July 8th for 1st session & July 24th for the 2nd session)
9-14 yrs 9:30-1:00 ~
$145 (pre-register $130 by July 8th for 1st session & July 24th for the 2nd session)
Session 2:  July 31st-August 4th

6-8 yrs 9:30-11:45 ~
$120 (pre-register $105 by July 8th for 1st session & July 24th for the 2nd session)
9-14 yrs 9:30-1:00 ~
$145 (pre-register $130 by July 8th for 1st session & July 24th for the 2nd session)
Paulette Gilbert creates a super-fun and friendly environment where kids learn the basics of performance through acting exercises, theatre games, improvisation, music, singing and movement. The week concludes with a showcase production where actors will present favorite theatre games and exercises as well as scenes, monologues and songs that they have created. This format allows for individual attention to students at all experience levels.
Come join the fun!
One week session, Monday through Friday
Class size limited
Students bring a healthy snack or lunch each day
Showcase performed during last hour on final day of camp
Registration accepted first day, but limited by class size
Class Attire:
• Appropriate clothing that is easy to move in.
• Students must wear closed-toe shoes that securely stay on while we work and play.
• No socks, bare feet, flip flops or boots.
• To protect the dance floors, theatre shoes should be clean and set aside for classes.
• Students carry theatre shoes into studio and remove after classes.
Water Bottle:
Please bring a water bottle! There is no water fountain and your child will become thirsty as the day progresses.
For more information call, email or visit: centerstagegv@gmail.com • 530-271-1200 121 Joerschke Drive, Grass Valley
CSDS is a non-profit studio offering a full spectrum of dance and young actor classes.