CHILDREN'S THEATRE on Mondays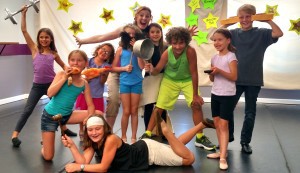 Acting/Musical Theatre

(Ages 6 and up)



Theatre Games, Acting Exercises, Improvisation, Singing and Choreography
•

5:00 – 6:00

: Ages 6 – 8

•

5:30 – 6:30

: Ages 9 – up
Advanced Acting
(Ages 12 and up)
Improvisation, Movement, Monologues, Character and Scene Work
• Students must audition and/or take 2 months of Acting/Musical Theatre
Class Attire:
• Clothing should be appropriate, comfortable and easy to move in.

• Shoes must securely stay on while we work and play. No socks, flip flops, ballet slippers or exposed toes.
• "Theatre" shoes can be shoes your child already owns; No longer worn outside. Simply wash and set aside for classes.

• Students carry shoes into studio and remove before leaving studio.

• Bring a water bottle; No water fountain in studio.
Theatre Classes Showcase:
Students have the opportunity to participate in a Fall, Winter and Spring Showcase. This fun and informal presentation allows you to see what we've been up to! It also provides students the experience and excitement of performing for family and friends. Anyone curious about classes is encouraged to attend as well. Showcases are 35-45 min. and held in a studio room.
Winter Showcase: Monday March 12th 6:00 Room 4
Instructor – Paulette Gilbert
For over 25 years, Paulette has worked with children as a teacher, actor and director. She holds a BA in Early Childhood Education and a MA in Theatre from Louisiana Tech University. She has extensive professional experience as an actor, teacher and costumer with numerous theatre companies across the country, including a national tour with the Missoula Children's Theatre. She has been our Acting Instructor and Director of our Children's Theatre Ensemble productions for the past 6 years,  most recently "Haphazardly Ever After".  She is teaches Theatre at a few area schools and is a primary Costume Designer for the B Street Theatre in Sacramento.