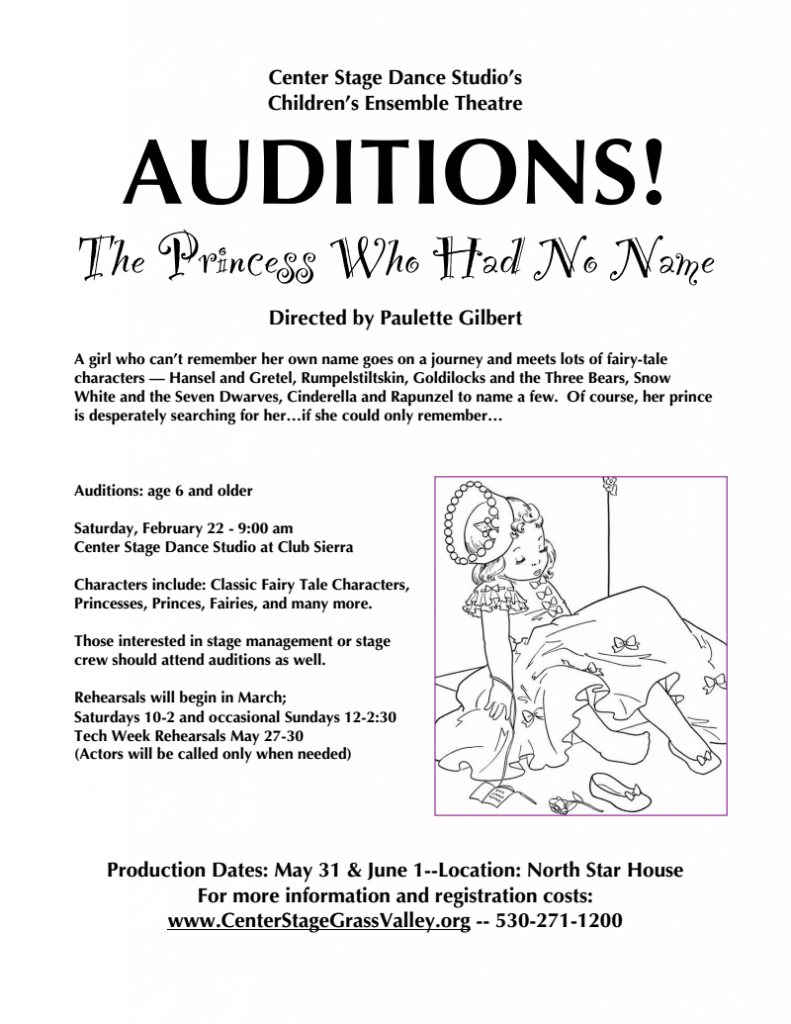 Upcoming Events ~
~Children's Theatre Winter Showcase~Friday, Jan 31st at 5:30pm at the GV studio. If you'd like to see what our children's theatre classes have been working on so far this season, join us for a free showcase for the entire family.
~Children's Theatre Auditions~Saturday, Feb 22nd at 9am at the GV studio. We welcome all actors ages 6 and up to join us for our 7th Annual Children's Theatre Ensemble Production. This year we'll be performing "The Princess Who Had No Name", directed by Paulette Gilbert. Many roles for both boys and girls. Performances will be May 31 and June 1 at The Northstar House.
AUDITION QUESTIONS
 How long will the audition last?  Auditions will begin promptly at 9am and will end by no later than 12:30.  Some may be release within 1-2 hours into audition.
Do I need to memorize anything for the audition?  No.  You may be asked to sing a familiar tune like "Happy Birthday" or "Row Your Boat".  You may be given a copy of a scene from the play that you will be asked to read from.  This is called a "cold reading".
Do I need a headshot (picture) and a resume?  No, you do not need a resume or a headshot.  When you arrive you will be given an audition form to fill out.  There is a space on the audition form that asks you to list any theatrical or other experience.  If you have a resume we will attach it to the form.  A digital photo wll be taken during the audition process for the director to use in casting.
Can my parents watch my audition?  Parents are welcome to accompany you before and after the audition.  There will be a place for them to wait while you are in your audition.
How old do you have to be to audition?  Only children 6 years and older are allowed to audition.
What happens if I cannot make the audition date?  Unfortunately, if you cannot make the audition date then you will not be able to audition.  We are not able to set up individual auditions.
What should I wear?  An audition is much like a job interview, except in this interview you might be asked to dance or sing!  You should wear clothes and shoes that are easy for you to move in and not trip or fall.  We suggest you wear tennis or jazz shoes for auditions.
Will I have to audition in front of anyone else who is auditioning?  Yes.  You will be asked to participate in part of the audition to see how yo work with others and communicate. 
What is a callback?  The "callback" is a second audition where the selection process becomes more specific.  Not every person will be asked for a callback.  You will be asked to read additional scenes from the show, sing or learn a dance.  The callback is also an opportunity for the director to see and hear different combinations of actors.  A callback may not be needed.
How will I know what role I've been given in the show?  As soon as all casting decisions are completed, an email listing the entire cast and crew will be sent to everyone who has provided an email address.
REHEARSAL & PRODUCTION QUESTIONS
Production Dates:
May 27th, 28th, 29th ~ Tech/Full Run Rehearsals
Friday May 30th ~ Tech/Dress Rehearsal
Saturday May 31st ~ 6:30 Opening Performance
Sunday June 1st ~ 4pm Performance & 6:30pm Closing Performance
What is the the participation fee for my child to be a part of this performance?  
I will be out of town or not available to attend a performance date, tech or dress rehearsal can I still audition?  Tech and dress rehearsals and all performances are required for the entire cast and crew.  You should not audition if you have conflicts on these dates.
When are rehearsals? Rehearsals will be primarily held on Saturdays from 10:00-2:00pm.  Actors will be called only when needed and will never be called for more than 1.5 – 3 hrs. that day.  Occasional special or pick-up rehearsals will be on Sundays between 12 and 2:30pm.  Rehearsals are held at Club Sierra in the Center Stage Dance Studio or Large Workout Room.
What if I can't make all rehearsals?  On your audition form we will ask you to note any dates that you can't rehearse.  We are often able to work around the availability of the actors.  School breaks & holidays will be considered and accounted for.  Always be honest about your availability.  Excessive absences may result in you not being able to participate in the actual show.
Can a parent stay for rehearsals?  A parent may stay, but does not need to.  Actors should be delivered and picked up promptly.  Everyone who remains at a rehearsal must sit quietly so as to not disturb.  Observers may be asked to wait in the hallway if space is limited due to the number of actors called to rehearsal.
Any other questions?  Please call the studio at (530)217-1200 or Paulette at (530)265-4126.  
Classes
Creative Dramatics (4-5 yrs)
Monday 3:15-4:00 ~ Paulette (Studio A)
Theatre Fun (6-7 yrs)
Wednesday 3:30-4:30 ~ Paulette (Studio A)
Musical Theatre (8 & up)
Monday 4:00-5:00 ~ Paulette (Studio A)
Wednesday 4:30-5:30 ~ Paulette (Studio A)
Acting (8 &
Monday 5:00-6:00 ~ Paulette (Studio A)
Wednesday 5:30-6:30 ~ Paulette (Studio A)
Teen Acting (13 & up)
Monday 6:00-7:00 ~ Paulette (Studio A)
Teen/Adult Musical Theatre (Broadway Style)
Friday 5:00-6:00 ~ Lotus/Quin (Studio B)
Class Description
Creative Dramatics (4 yrs. and 5 yrs) • Storytelling, Games, Music and Movement
Theatre Fun (6 yrs. and 7 yrs) • Theatre Games, Music, Storytelling and Movement
Kids Acting(8 yrs. and up) • Theatre Games, Improvisation, Movement and Scene Work
Kids Musical Theatre • (8 yrs. and up) Music, Choreography and Theatre Games
Teen Acting (13 yrs. and up) • Improvisation, Scene Work, Monologues, Theatre Games and Movement