WINTER 2014
SCHEDULE
Please click here to view Grass Valley classes
Please click here to view Colfax classes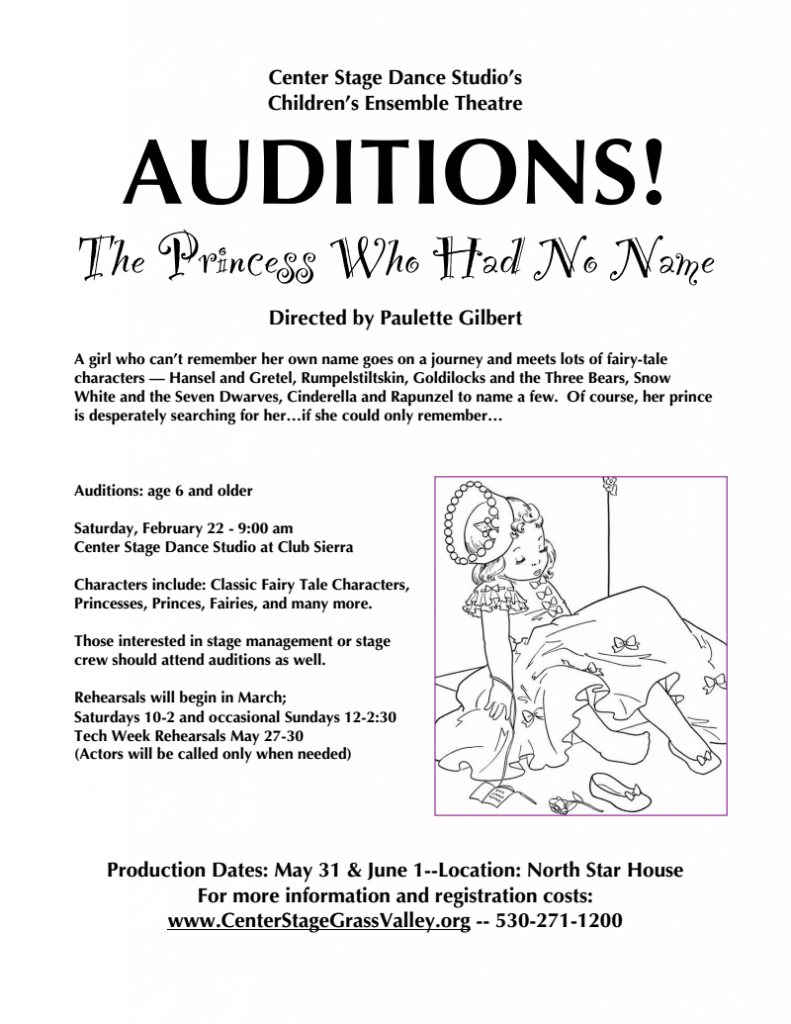 Please click here for audition information
Upcoming Events ~
~Children's Theatre Winter Showcase~Friday, Jan 31st at 5:30pm at the GV studio. If you'd like to see what our children's theatre classes have been working on so far this season, join us for a free showcase for the entire family.
~Teen/Adult Performance Ensemble Auditions~Friday, Feb 7th at 6pm at the GV studio. This is a Center Stage production co-directed by Karen Attix, Trieste Erickson and Hollie McGovern. These are open auditions for Int-Professional level dancers ages 13 & up. Performances will be late May at NUHS Don Baggett Theatre.
~Children's Theatre Auditions~Saturday, Feb 22nd at 9am at the GV studio. We welcome all actors ages 6 and up to join us for our 7th Annual Children's Theatre Ensemble Production. This year we'll be performing "The Princess Who Had No Name", directed by Paulette Gilbert. Many roles for both boys and girls. Performances will be May 31 and June 1 at The Northstar House.
~Center Stage's Annual Recital~Saturday, June 28th at 2pm & 7pm at NUHS Don Baggett Theatre.
New Classes ~ In addition to Lyrical and Breakdance, we'll also be adding Hip Hop to the GV schedule starting in Feb
** We have been experiencing technical difficulties with our web hosting, please bare with us **